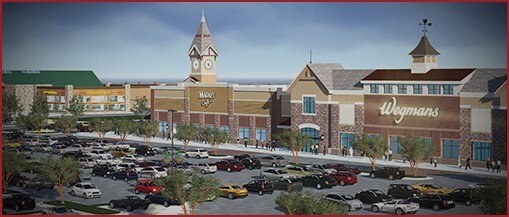 West Broad Marketplace
Developed by NVRetail between 2013-2018, West Broad Marketplace is a Class A regional shopping center located in the Short Pump suburb of Richmond, Virginia. It includes a Wegman's grocery, a Cabela's and nearly 200,000 square feet of additional junior anchor and small-shop retail (including TJ Maxx, Burlington, etc.).
NVRetail sold the property to MetLife in 2018 and continued to manage the development of nearly 120,000 square feet of retail space (post-closing) on behalf of MetLife.  NVRetail and West Broad Marketplace received the Greater Richmond Association of Commercial Real Estate ("GRACRE") Award for "Best Large-scale Retail Project in 2018".